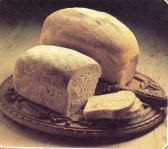 GRILLED PORK CHOPS WITH PEACH TOMATO BARBECUE SAUCE


Serves 4

To keep the pork chops from burning, rotate them from the hottest parts of the grill to the perimeter during cooking, basting with barbecue sauce as you do so.

1 tablespoon olive oil
1 medium onion, finely chopped
1 clove garlic, minced
1 one-inch piece ginger, peeled and grated
1 1/2 cups canned tomato sauce
1/2 cup best-quality peach jam
2 ripe peaches, peeled and cut into 3/4-inch chunks
1 to 2 tablespoons sherry vinegar
Salt and freshly ground black pepper
4 pork chops, 6 to 8 ounces each, trimmed of excess fat

1. Heat olive oil in a medium saucepan over medium heat. Add chopped onion, and cook until translucent, about 2 minutes. Add minced garlic and ginger; cook about 2 minutes more.

2. Stir in tomato sauce, peach jam, and peaches. Reduce heat to low; simmer until sauce thickens, about 30 minutes. Stir in vinegar to taste. Adjust seasoning with salt and pepper. Remove from heat; let cool.

3. Pour half the barbecue sauce into a shallow baking dish; add pork chops, turning to coat both sides. Reserve remaining sauce.

4. Grill pork chops on a medium-hot grill or grill pan until chops are well marked and cooked through, at least 5 minutes per side. Baste chops with barbecue sauce; rotate during cooking. Remove from grill. Let stand about 10 minutes before serving. Serve with remaining sauce.
Chicken with Brandied Fruit and Almonds
Ingredients
4 medium skinless, boneless chicken breast halves (about 1 pound total)
1/4 cup all-purpose flour
1/4 teaspoon salt
1/8 teaspoon ground red pepper
1 tablespoon olive oil
1 tablespoon butter or margarine
3 medium nectarines, pitted and cut into thin wedges*
3 tablespoons brandy
1 tablespoon lemon juice
2 tablespoons sliced almonds, toasted
Fresh oregano sprigs (optional)


Directions
Prep Time: 30 minutes


Rinse chicken; pat dry. Place each chicken piece between 2 pieces of plastic wrap. Pound lightly with the flat side of a meat mallet to 1/4-inch thickness. Remove plastic wrap. Combine flour, salt, and ground red pepper. Coat chicken pieces with flour mixture.


In a large skillet heat olive oil and butter or margarine over medium heat. Add chicken and cook for 6 to 8 minutes or till chicken is tender and no longer pink, turning once. Remove skillet from heat. Transfer chicken to a serving platter; cover and keep warm. Add nectarines, brandy, lemon juice, and 2 tablespoons water to the skillet. Return to heat and cook for 1 minute, stirring gently.


Serve the fruit mixture over chicken. Sprinkle with almonds. Garnish with oregano, if desired.


*Note: Fresh plums, peaches, or pears can be substituted for the nectarines
Sides:

CORN ON THE COB WITH HERB BUTTER


Serves 12

For the sweetest corn possible, keep just-bought ears at room temperature; refrigeration causes the natural sugars to convert to starch.

2 pinches of sugar
12 ears fresh corn, husks and silks removed
Herb Butter
Coarse salt and freshly ground pepper

1. Fill a large stockpot with cold water. Set over high heat, and bring to a boil. Add sugar. Add corn, and let simmer until just tender, 3 to 5 minutes. Remove from water with tongs. Serve immediately with herb butter, and season with salt and pepper.

HERB BUTTER


Makes 1 cup

This compound butter is wonderful spread over grilled bread or melted on your favorite pasta.

1 cup loosely packed fresh herbs, such as parsley, oregano, thyme, or marjoram, finely chopped
1 cup (2 sticks) unsalted butter, room temperature

1. Combine herbs and butter in the bowl of a food processor. Pulse until ingredients are combined. Store in an airtight container, refrigerated, for up to 2 weeks.
GARDEN VEGETABLE COUSCOUS


Serves 4

You can use any variety of bell pepper or cherry tomato in this recipe.

1 cup couscous
1/2 small orange bell pepper, stem and seeds removed
4 small scallions, white and light-green parts only
12 small yellow cherry tomatoes, halved
2 tablespoons olive oil
1 tablespoon freshly squeezed lemon juice, plus grated lemon zest, for garnish (optional)
Salt and freshly ground black pepper

1. Place couscous in a medium heatproof bowl. Pour 1 cup boiling water over the couscous, cover, and let stand 10 minutes. Fluff with a fork.

2. Cut bell pepper into 1-inch-long matchsticks, and add to the warm couscous. Thinly slice the scallions crosswise, and add to the bowl. Add cherry tomatoes.

3. In a small bowl, whisk olive oil and lemon juice together. Season with salt and pepper. Drizzle over couscous, vegetables, and toss. Garnish with lemon zest, if desired, and serve


CORNMEAL FRIED GREEN TOMATOES



Serves 4
Olive oil
2 large or 3 small green tomatoes
Yellow cornmeal, for dredging
Salt and freshly ground black pepper

1. Heat a small amount of oil in a sauté pan over medium heat. Cut the tomatoes into 1/4-inch slices. Dredge in cornmeal, coating well on both sides. Fry in the hot olive oil until golden brown, turning once. Drain on paper towels. Season with salt and pepper, and serve immediately.


Appetizer:

GUACAMOLE


Makes about 1 1/2 cups

Guacamole should be made by hand, preferably in a molcajete, a mortar made from volcanic rock. A food processor or blender wont give you the proper chunky texture.

1 clove garlic
2 serrano chiles, stemmed
1 small tomato, chopped
2 large ripe avocados, preferably Hass
Salt
2 tablespoons coarsely chopped cilantro

1. If using a molcajete, grind garlic and chiles to a paste. Grind part of tomato to a paste, or reserve all of it to fold in at the end. If you dont have a molcajete, chop garlic and chiles finely, then proceed using a bowl and fork.

2. Cut avocados in half and peel. Remove pit by inserting the blade of a knife into pit and twisting. Mash avocados into chile mixture, leaving some texture. Add salt to taste. Stir in cilantro and tomato, reserving a little of each for garnish. Serve immediately.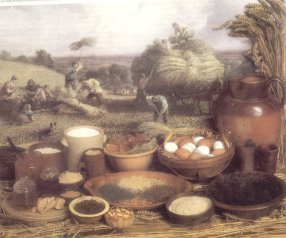 HERB SCENTED FLATBREAD

Dip in Guacomole

Makes 3

This flatbread doesn't contain yeast, so it's quick and simple to make. You can substitute your favorite herbs for

1 cup plus 3 tablespoons all-purpose flour1/2 teaspoon baking powder
1/2 teaspoon salt
1 teaspooon finely chopped fresh sage
1 teaspoon finely chopped fresh chives
1 teaspoon finely chopped fresh flat-leaf parsley
2 1/2 tablespoons vegetable shortening
3 tablespoons milk
1/2 teaspoon coarse salt , for sprinkling
1 tablespoon extra-virgin olive oil, for brushing

1. In the bowl of a food processor, combine the flour, baking powder, salt, sage, chives, and parsley; process for 5 seconds to combine. Add vegetable shortening and process until well combined, about 15 seconds. Add milk and 2 tablespoons water, and process until the dough comes together, about 7 seconds.

2. Transfer dough to a lightly-flowered surface and knead for about 1 minute, forming it into a ball. Cover with plastic wrap and let stand for 30 minutes.

3. Heat the over to 200° with a baking sheet set on the rack. Heat a medium cast-iron skillet over medium-high heat until very hot. Meanwhile, cut the dough into 3 equal pieces and form each piece into a ball. On a lightly floured surface, roll one of the pieces of dough out into a very thin circle (it should be less than 1/16 inch thick and about 6 1/2 inches in diameter). Using a fork, prick the dough 7 or 8 times. Lightly brush one side of the dough with olive oil and sprinkle it lightly with salt.

4. Transfer round of dough, with the oiled side down, to the hot skillet and reduce heat to medium; cook until surface is covered with golden to dark-brown speckles, about 1 to 2 minutes on each side. If the flatbread begins to burn, lower the heat and continue to cook.

5. Remove bread from skillet and transfer to the baking sheet in the oven. Repeat the rolling and cooking process with the remaining 2 pieces of dough.

6. Cut the bread into wedges with a pizza wheel or sharp knife, and serve warm.

Desserts:
BERRY VACHERIN

Serves 10

This French dessert is composed of layers of meringue, cream, and berries. We used fraises des bois, raspberries, and fresh red currants, but any assortment of seasonal berries will make a beautiful presentation.
Ingredients:

6 large egg whites, room temperature
1 1/2 cups granulated sugar
2 teaspoons pure vanilla extract
1 1/2 cups heavy cream
2 tablespoons confectioners' sugar, plus more for dusting
1 1/2 pints mixed berries, such as red and white fraises des bois, red and golden raspberries, and fresh red currants
Red Raspberry Sauce

1. Preheat the oven to 200° with two racks centered. Trace a 9-inch circle on each of two pieces of parchment paper. Turn over, and use each piece to line a baking sheet. Set aside.

2. Place egg whites in the clean bowl (copper, if possible) of an electric mixer fitted with the whisk attachment. Beat on high speed until soft peaks form, about 2 minutes. Add 1/4 cup granulated sugar; beat to combine. Gradually add remaining 1 1/4 cups granulated sugar, 1 tablespoon at a time, until whites are very stiff and glossy. Add 1 teaspoon vanilla; beat just until combined.

3. Divide batter between the traced circles, and use an icing spatula or rubber spatula to spread evenly to the edges of the circles.

4. Place baking sheets on separate racks in the oven, and bake about 3 1/2 hours, switching the upper and lower sheets every 30 minutes. When fully cooked, the meringues should be white and dried and crisp on the outside, yet soft and somewhat chewy inside; test by tapping the center lightly with a fork. Remove from oven, and let cool completely on baking sheets.

5. Combine cream, remaining 1 teaspoon vanilla, and 2 tablespoons confectioners sugar in a chilled metal bowl; whip until cream is stiff but soft.

6. Place one meringue on a serving plate, and spread three-quarters of the whipped cream over it. Scatter half of the berries over, and place the second meringue on top. Spoon remaining cream onto the center of the meringue, and heap remaining berries on top. Dust the top with confectioners sugar.

7. Slice the vacherin with a thin sharp knife, and serve immediately with red raspberry sauce on the side.
Cake:
Apricot-Peach Cake
Serves: 6 to 8

Biscuit
For Apricot-Peach Cake.

8 large eggs
1 1/2 cups sugar
2 1/4 cups all-purpose flour
1 teaspoon baking powder
1. Preheat oven to 400 degrees F. Line a large 10- by 15-inch-deep jelly roll pan with parchment paper and grease and flour the paper, shaking out excess flour.


2. In a bowl with an electric mixer beat the eggs with the sugar until the mixture ribbons. Into a bowl sift the flour and baking powder. Fold the dry ingredients into the egg mixture, a little at a time, being sure to incorporate flour well. Transfer the batter to the prepared pan, smoothing it into an even layer, and bake for 12 to 15 minutes, or until golden. Transfer pan to a rack to cool for 10 minutes and invert it onto a baking sheet lined with parchment sprinkled with sugar. Peel off top layer of paper, turn paper upside down, and place back on top of cake until cake is cooled completely.


For the apricot-peach mousse:
3 sheets gelatin, available at specialty food stores
1 cup apricot-peach puree
1 cup sugar
1/4 cup water
3 large egg whites (1/2 cup)
1 cup heavy cream, whipped
For the filling and garnish:
Diced fresh peaches and apricots, to taste
Peach or apricot liqueur, to taste
2 cups heavy cream, whipped, for garnish
Fresh peach and apricot slices for garnish
1. Make the flaky pastry: On a lightly floured surface, roll out the1 1/2 recipes of biscuit and let cool.


3. Make the apricot-peach mousse: In a bowl of cold water soften the gelatin sheets for 5 minutes, or until pliable. In a saucepan, combine the gelatin sheets, drained, with the apricot-peach puree. Bring to a simmer over moderate heat, stirring, and continue to heat just until gelatin is melted. Transfer to a bowl to cool.

4. In a small, heavy saucepan, combine the sugar with the water and bring to a boil, brushing down the sides of the pan with a brush dipped in water. Boil syrup until candy thermometer registers 239 degrees F hard ball stage.

5. Meanwhile, in a bowl with an electric mixer, beat the whites until they hold firm peaks. With the mixer running, slowly add the hot sugar syrup in a stream and continue to whisk until mixture is cold. Meringue may be prepared in advance. Cover and chill until ready to use. Whisk 1/4 of the meringue into the peach puree and fold in the remaining meringue. Finally, fold in the whipped cream. Chill until ready to use.

6. To assemble: Using a ring 1 to 1 1/2 inches smaller than the springform pan as a guide, stamp or cut out 3 bases from the biscuit. Fit the bottom of the spring form pan with its sides (reassembling the pan) and place the baked flaky pastry in it. Smooth a thin layer of the mousse onto the flaky pastry base, top with a layer of biscuit, and sprinkle the biscuit with the liqueur. Cover with the diced peaches and apricots and add enough mousse to cover the fruit. Chill in refrigerator until mousse is firm, if necessary, keeping remaining mousse in refrigerator, too. Repeat layering two more times. The last layer should preferably be level with the edge of the cake tin. Smooth top into an even layer and chill for several hours or overnight. Before serving, frost top and sides with the whipped cream and decorate with the fresh fruit.

Beverage:

CHERRY LEMONADE

Serves 6 to 8

You can make this drink as sweetor souras you like. Just add sugar to taste.

1 3/4 cups freshly squeezed lemon juice (about 12 lemons)
1 cup sugar
1 pound fresh cherries, pitted

1. In a gallon container, combine lemon juice and sugar, stirring until sugar is dissolved. Stir in 3 quarts cold water and cherries until combined. Fill glasses with ice, pour in cherry lemonade, and serve.