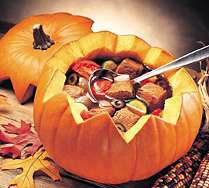 Pumpking Stew
2 pounds beef stew meat, cut into 1 inch cubes
3 tablespoons vegetable oil, divided
1 cup water
3 large potatoes, peeled and cubed
4 carrots, sliced
1 large green bell pepper, chopped
4 cloves garlic, minced
1 onion, chopped
2 teaspoons salt
1/2 teaspoon ground black pepper
1 (14.5 ounce) can whole peeled tomatoes, chopped
2 tablespoons beef bouillon granules
1 sugar pumpkin


Directions
1 Heat 2 tablespoons oil in a large saucepan over medium-high heat. Place beef in the saucepan and cook until evenly brown. Mix in the water, potatoes, carrots, green bell pepper, garlic, onion, salt and pepper. Bring to a boil. Reduce heat and simmer approximately 2 hours.
2 Dissolve the bouillon into the beef mixture. Stir in the tomatoes.
3 Preheat oven to 325 degrees F (165 degrees C).
4 Cut top off the pumpkin and remove seeds and pulp. Place the pumpkin in a heavy baking pan. Fill the pumpkin with the beef mixture. Brush outside of the pumpkin with remaining oil.
5 Bake in the preheated oven 2 hours, or until tender. Serve the stew from the pumpkin, scraping out some of the pumpkin meat with each serving.





GARLIC CHEESE BISCUITS


2 cups baking mix (such as Bisquick)

1/2 tsp. sugar

1 tsp. parsley flakes

1/2 tsp. garlic powder

1/2 tsp. Italian seasonings

1/2 cup cold water

3/4 cup shredded Sharp Cheddar cheese

3 tbsp. melted butter

1/2 tsp. garlic powder

.

1. In a mixing bowl, combine the baking mix, sugar, parsley, 1/2 tsp. garlic powder and Italian seasonings. Stir in water and cheese.

2. Drop by small spoonfuls onto a lightly greased cookie sheet(s). Mix together melted butter and 1/2 tsp. garlic powder; brush on tops of dough, reserving leftover garlic-butter.

3. Bake at 450 for 8 to 10 minutes, or until golden. Brush biscuits with remaining garlic-butter. Yield: 18 biscuits.

Pumpkin Cake Roll
3 eggs, beaten
1 c. sugar
1 tsp. lemon juice
2/3 c. pumpkin
3/4 c. flour
2 tsp. cinnamon
1/2 tsp. nutmeg
1 tsp. baking powder
1 tsp. ginger

Add the sugar, lemon juice, and pumpkin and beat well. Blend dry ingredients together and add to the egg/pumpkin mixture. Beat well. Put waxed paper on cookie sheet, grease with Pam spray. Pour batter on top and bake 375 F. for 15 minutes. While still warm, put towel on top of cake and roll up. When cool, unroll and frost with the following:

1 c. powdered sugar
8 oz. softened cream cheese
4 Tb. butter
1 tsp. vanilla

Mix above ingredients well and spread over the unrolled cake. Roll up again, and refrigerate until cheese sets. Slice and serve!


Hot Buttered Cranberry Cider


4c apple cider
4c cranberry juice cocktail
3" cinnamon stick
1c dark rum (optional)
2T honey, or to taste
6T unsalted butter, cut into bits

In a stainless steel or enameled saucepan, combine the cider, cranberry juice and cinnamon stick, and bring to a boil; simmer for 10 minutes. Remove pan from heat; stir in rum, honey and butter; stir until mixed well and butter is melted. Ladle hot buttered cider mixture into heated mugs.



Jack O Lantern Cheese Ball
2 cups Shredded Cheddar cheese
1/4 cup Solid pack pumpkin
1/4 cup Pineapple preserves
1/4 teaspoon Ground allspice
1/4 teaspoon Ground nutmeg
1 large Pretzel rod -- broken in half
1/2 8 0z pkg cream cheese
Dark rye bread
Red pepper
Black olive slices
Parsley sprigs
Beat cheeses, pumpkin, preserves and spices in medium bowl until smooth. Cover refrigerate 2-3 hours until cheese is firm enough to shape. Shape mixture into round pumpkin, place on serving plate.Using a knife, score vertical lines down pumpkin. Place pretzel rod in top for stem. Cut bread into triangles for eyes, cut red pepper into triangle , for nose, and cut olives in half to make the mouth. Surround with parsley. Serve with crackers.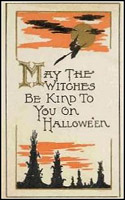 Halloween Party Cookies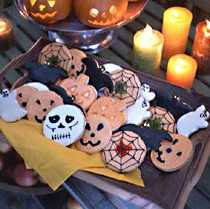 Yields: About 24 cookies



2 cups cold unsalted butter, cut into pieces
1 cup sugar
1 teaspoon vanilla extract
4 cups all-purpose flour
Pinch of salt

1. Preheat oven to 350 degrees F. Make the dough: In a medium bowl, with mixer on medium speed, beat butter and sugar until well blended. Add vanilla. Reduce speed and gradually add flour and salt and beat until a dough forms. Divide the dough in half. Between 2 sheets of floured parchment paper, roll one half of the dough to 1/4-inch thickness. Cut into desired shapes with cookie cutter and repeat with remaining half of dough. Reroll dough scraps and cut more cookies.

2. Bake and cool the cookies: Place cutouts 1 inch apart on ungreased baking sheets. Bake just until golden brown 10 to 12 minutes. Cool on a wire rack. Store in an airtight container for up to 4 days or freeze for 2 weeks until ready to decorate.

Icing for halloween cookies

Dip and Flood Icing:
2 cups confectioners' sugar
2 tablespoons meringue powder
3 tablespoons water
Food coloring

Piping Icing:
3 cups confectioners' sugar
2 tablespoons meringue powder
3 tablespoons water
Food coloring

1. Make the icings: In a medium bowl, mix all Dip and Flood Icing ingredients on low speed until well blended. Divide among small containers, then stir in the colors of your choice. Cover each bowl with plastic wrap until ready to use. Repeat procedure for Piping Icing. (Add water or confectioners' sugar as needed to adjust consistency if necessary.)

2. Dip cookies: Pour a colored (or white) Dip and Flood Icing into a flat container. Place cookies on a wire rack over paper or a cookie sheet to collect icing runoff. Dip cookie, top side down, into the container, allow excess to drip off, invert the cookie, and then transfer to rack to dry. Repeat for remaining cookies you plan to dip.

3. Pipe cookies: Fill a pastry bag fitted with a #4 round tip with Piping Icing and outline the edge of the cookie, leaving no gaps. Pipe out the design, such as eyes, nose, and mouth for a jack-o'-lantern. Allow the piping to set for at least 15 minutes.

4. Flood Cookies: Fill a plastic squeeze bottle with colored Dip and Flood Icing. Squeeze the bottle to flood icing onto surface of cookie. Use a small knife tip or skewer to push icing to edges of the piped outline and design.

5. Create swirled leaf cookies: In a small bowl, place a cup or more of one Dip and Flood Icing color. Drizzle 1-2 tablespoons of a second color in a swirl pattern onto surface of first color. Dip the topside of cookie and while keeping it top side down, lift it and let excess icing fall into another bowl to avoid "muddying" the multicolored icing mixture. Invert the cookie rapidly and set it on a rack to dry. Repeat this process, drizzling more of the second color into the bowl with each cookie you dip. Allow 24 hours for cookies to dry.