CHOCOLATE SUCKERS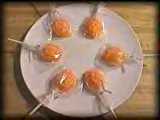 INGREDIENTS
1 bag any color chocolate melts
Sucker molds of your choice
1 bag of sucker sticks
Disposable pastry bags
1 bag of sucker wrappers w/ ties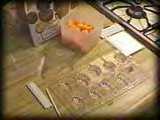 PREPARATION
To melt the chocolate (Wilton's Candy Melts work great), follow the directions on the back of the bag. The easiest way is to use a disposable pastry bag. Fill it with the melts, tie off the open end and zap it in the microwave. Squeeze the bag every few minutes as it melts to mix it.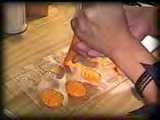 Cut off the tip of the bag and fill each sucker shape to the top. We used orange melts and jack-o-lantern molds. You can also melt some yellow and brown melts and fill in the jack-o-lantern face before you fill with orange. Just let the faces harden first, then fill.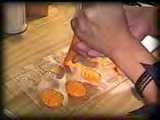 When they are full, insert the sticks, you may have to work them into the chocolate a little and top it off to seal them in. They may look a little bumpy but they will level out as the chocolate settles. Place in your refrigerator to set.You can also look for different molds that have witches, skulls, etc. and fill them accordingly.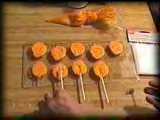 To remove after they are set, just lift by the stick, they should easily pop right out. If they don't come out, just bend the mold slightly, like getting ice from a tray. You can use candy paints or glazes at this time to add some color. Or use decorating gel or frosting to add faces!
STORAGE & SERVING
For a Halloween party, serve on on a large serving tray or decorative plates. For treats, wrap individually in those little cellophane bags for suckers. You can find orange ones during the Halloween season.A very tasty little treat! I guarantee that they disappear faster then a ghost in a grave yard!



Pus Pockets
Ingredients:
4 sm Pitas
8 oz Mozzarella cheese -- shredded
Spaghetti Sauce
Instructions:
Preheat the oven to 350 degrees.
Slit open each pita along 1/4 of its edge to make a pocket, and spoon 1/2 cup shredded cheese, and spaghetti sauce to taste,into each one.
Place the stuffed pitas on an ungreased cookie sheet.
Bake for 15 minutes, or until the pitas turn golden brown.
Remove from the oven.
With a knife, poke a hole in the top of each pita. Carefully squeeze pitas, they'll be hot, until a little melted cheese oozes out of the hole.
Dab a little more spaghetti sauce around the hole and arrange on a platter.
Now you can not only pick your pimples, but you can eat them too!



Pumpkin Head Pizza
INGREDIENTS
1 pre-made soft pizza crust
1 bag of pre-cut pepperoni
1 8 oz. bag mozzarella & cheddar cheese mix
1 container pizza sauce
1 Green pepper
Any other veggies you'd like.
Jack-O-Lantern cookie sheet
PREPARATION
Following the instructions on the pizza crust tube for pre-baking the crust after you shape it to the Jack-O-Lantern pan. After the crust is done, cover it with the pizza sauce of your choice, add pepperoni and any veggies you want.
Cover liberally with the cheddar/mozzarella cheese mix, making sure to cover anything underneath it. Cut green peppers in to thin slivers, save a larger piece to make the stem. Lay pieces out to make the indentations of the pumpkin. Cut pieces of pepperoni to make the eyes, nose and mouth of the Jack-O-Lantern. You could also use a yellow pepper to do this for variation on a meatless pizza. Here's what mine looks like before baking.
Bake according to the instructions on the pizza crust wrapper, usually about 20 minutes, but you'll know when it's done. The cheese will be all bubbly and the crust will be golden! It looks so yummy, you won't be able to wait to taste itand, maybe, share with all my spooky friends!

Day Old Bath Water
12 ounce Can frozen lemonade
2 liters 7-Up
1/2 gallon Rainbow sherbert

Thaw sherbert for approximately 15 minutes and place in a plastic tub. Add lemonade (prepared according to directions) and 7-up. Sherbert will melt and turn mixture day old bathwater grayish-brown. Float a handful of green, yellow and white tiny after dinner mints (tiny bars of soap) on top of the scummy punch.



Witches Hats