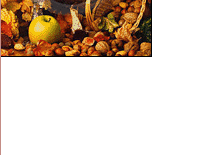 Mabon is the Witch's Thanksgiving, a time to
appreciate and give thanks to the Goddess for
her bounty and to share in the joys of the
harvest. Fall fruits, squash, gourds, pumpkins,
grains, nut breads, vegetables.



Herbed Roast Turkey


1 12 to 14 lb turkey
1/2 cup rosemary sprigs, fresh
1/2 cup sage leaves, fresh
1 apple, quartered
1 stalk celery, halved
1 onion, halved
1/2 cup butter, melted
Remove giblets and neck from turkey; reserve for other uses, if desired. Rinse turkey with cold water and pat dry.
Loosen skin from the turkey breast a bit, not totally detaching. Place rosemary and sage under skin then smooth skin over herbs and back into place.

Place apple, celery and onion into the neck cavity. Place the turkey, breast side up, on a rack in a shallow roasting pan and brush with melted butter. Cover turkey loosely with a "tent" of aluminum foil.

Bake at 325 degrees until meat thermometer registers about 180 degrees. This should take from 3 1/2 to 4 hours, but begin checking after 3 hours. Remove turkey and let stand 15 minutes before carving. Serve with gravy.

Wild Rice with Apples and Walnuts


1 cup wild rice
2 cups water
1 Tablespoon vegetable oil
Cook rice and oil in water for 50 minutes.


1 cup walnuts
1 rib of celery, chopped
4 chopped scallions
1 cup raisins
1 red apple, peeled and chopped, set aside in lemon water
2 teaspoons grated lemon rind
Combine nuts, celery, onions, raisins, drained apple and lemon rind and set aside.

3 T. lemon juice
2 garlic cloves, minced
1/2 t. salt
1/3 cup olive oil
pepper, to taste
Whisk together juice, salt and pepper, garlic and oil and add to cooked rice.

Add fruit mixture to the rice (to which has been added oil, spices and juice) and mix well. May be served cold or heated.


Stuffed Acorn Squash
2 acorn squash, washed and cut in halves
1/2 stick of butter
1/2 cup of crushed Ritz crackers
1/4 cup chopped walnuts
1/4 cup brown sugar

Wash and cut acorn squash in half from stem to bottom
Scoup out the seeds and rub the inside and cut parts with butter. Put the acorn squash on a cookie sheet. Melt the butter, and mix in the walnuts, brown sugar, and crackers. Place in the holes of the squash and bake at 350 degrees for 30 - 40 minutes or until done.




Green Bean Casserole
1 can cream of mushroom soup, 10 3/4 ounce
4 cups cooked green beans
1/8 teaspoon pepper
3/4 cup milk
1 1/3 cups fried onions
Mix soup, milk and pepper in a 1 1/2-quart casserole dish. Stir in beans and 2/3 cup of the fried onions. Bake for about 25 minutes at 350 degrees F. Top with the remaining 2/3 cup fried onions and bake about 5 more minutes, until onions are lightly browned.
Serves 6.




HONEY WHOLE WHEAT BREAD

9 cups whole-wheat flour
4 teaspoons salt
2 pkg. active dry yeast
1 1/2 cups milk
1 1/2 cups water
6 tablespoons butter
1/2 cup honey


Sift together 3 cups flour, salt, and yeast. Combine milk, water, butter, and honey in a saucepan and heat over low heat until liquids are warm (butter need not melt completely). Gradually add to dry ingredients and beat 2 minutes. Add remaining flour a cup full at a time until a soft dough forms. Turn out onto lightly floured surface and allow to rest 10 minutes. Knead until smooth and elastic, about 10 minutes. Place in large greased bowl and turn to grease all sides of dough. Cover and allow to rise in a warm place until doubled in bulk, about one hour.
Punch dough down and turn out onto lightly floured surface. Divide dough in half and shape each half into a loaf. Place into greased loaf pans. Cover and let rise in warm place until double in bulk, about one hour. Bake at 375 degrees for 35-40 minutes. Remove from pans and cool on racks.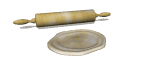 PECAN PIE

1-1/4 Cups Pecan Pieces
2 Eggs, Slightly Beaten
1 Cup Light Karo Syrup
1/4 Cup Sugar
2 Tablespoons Flour
1/4 Teaspoon Salt
1 Teaspoon Vanilla.


Preheat oven to 375 degrees

Spread pecans in an unbaked 9-inch pie shell. Mix remaining ingredients together and pour over pecans. Bake slowly at 375 degrees until done, approximately 1 hour. Hint: Cover the edges of the pie crust with foil about halfway through baking to prevent crust from getting too brown before the pie is done.





OLD-FASHIONED GINGER BEER

For The Starter:
1/2 Ounce Yeast
2 Teaspoons Sugar

To Feed The "Plant":
7 Teaspoons Ground Ginger
7 Teaspoons Sugar

To Flavour:
1 1/2 Pounds Sugar
Juice Of 2 Lemons


Mix starter ingredients with 3/4 pint of warm water in a glass jar. Stir, cover and leave in a warm place for 24 hours. This is your starter "plant". Feed the "plant" with 1 teaspoon each of ground ginger and sugar each day. After 7 days strain through a fine sieve. Dissolve the sugar in 2 pints of water. Add the lemon juice and the liquid from the "plant". Dilute with 5 pints of water, mix well and store in corked bottles for at least 7 days.
Use strong bottles as pressure may build up which will cause thin bottles to explode. For the same reason use corked bottles rather than those with a more secure closure that will not 'give' under pressure.
The amount of sugar in the final stage can be varied according to taste.




Sweet potato Casserole
3 pounds sweet potatoes, peeled and steamed until completely soft
3/4 cup orange juice
2 eggs, beaten
2 Tablespoons melted butter
2 T. sugar
1 1/2 Teaspoons cinnamon
1/2 t. nutmeg
Mix juice, eggs, sugar and spices and blend thoroughly with potatoes using an electric mixer. Spread into a greased 9"x13" pan.


1/2 cup flour
1/4 c plus 2 T. brown sugar
1/2 t. cinnamon
1/4 c. chopped butter
1/2 c. chopped pecans
Mix together flour, brown sugar, cinnamon, butter and nuts until crumbly, spread on top of sweet potatoes and bake at 350 degrees for 30 minutes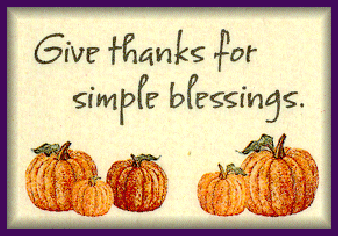 CAKES AND ALE
Honey Corn Muffins
½ Cup unsifted, unbleached all-purpose flour
½ Cup fine whole wheat pastry flour
1 Cup stoneground yellow cornmeal
2 teaspoons baking powder
½ teaspoon baking soda
¼ teaspoon salt
1 egg
1 cup plain nonfat yogurt or buttermilk
1/3 cup honey
¼ cup corn oil

(gives you 12 muffins so you may want to double this!)

Preheat oven to 400 F. Lightly grease a 12 hole muffin tin with vegetable spray.
Combine flours, cornmeal, baking powder, baking soda and salt until well blended.
In another bowl, mix egg, yogurt(or buttermilk), honey and corn oil until well blended. Add in the dry ingredients and beat until the mixture is moist. (Dont over beat or your muffins will be tough )
Pour in the muffin tin and bake for 15-20 minutes. (Just until they are firm)

Serve with Honey Butter

Mabon Wine Moon Cider


4 cups apple cider 1/2 tsp. whole cloves
4 cups grape juice additional cinnamon sticks
2 cinnamon sticks for cups, 6 inches long
1 tsp allspice

In a 4-quart saucepan, heat cider and grape
juice. Add cinnamon, allspice and cloves.
Bring just to boiling. Lower heat and simmer
for 5 minutes.