Planet: Sun
Element: Fire
Its powers include love, lust, protection, exorcism, purification, healing, longevity, youth, mental powers, and sleep




This is a wonderful all-purpose herb that you can't afford to be without! Rosemary can be used as a substitute for just about any herb.Rosemary is an attractive evergreen shrub with pine needle-like leaves. It's trusses of blue flowers last through spring and summer in a warm, humid environment. It will grow to a height of between 3 and 5 feet. Cultivation---Rosemary is propagated by seeds, cuttings and layers, and division of roots.
(1) Seeds may be sown upon a warm, sunny border.
(2) Cuttings, taken in August, 6 inches long, and dibbled into a shady border, two-thirds of their length in the ground, under a hand-glass, will root and be ready for transplanting into permanent quarters the following autumn. (3) Layering may be readily accomplished in summer by pegging some of the lower branches under a little sandy soil.
Rosemary succeeds best in a light, rather dry soil, and in a sheltered situation, such as the base of a low wall with a south aspect. On a chalk soil it grows smaller, but is more fragrant. The silver- and gold-striped kinds are not quite so hardy.

Harvesting Cut anytime as needed. For drying, cut branches before the plant flowers. Shape plants as desired when harvesting branches. Hang bundles upside down in an airy place. When dry, strip the leaves from the stem. Crumble leaves into pieces and store in airtight containers. For freezing, strip leaves from stems, mix with a little water and put in ice cube trays. Fresh sprigs may be frozen in foil for use within several weeks.
Aromatherapy Uses: Acne; Dermatitis; Eczema; Lice; Scabies; Hair; Scalp; Arteriosclerosis; Fluid Retention; Gout; Muscular Pain; Neuralgia; Palpitations; Poor Circulation; Varicose Veins; Rheumatism; Asthma; Bronchitis; Whooping Cough; Colitis; Dyspepsia; Flatulence; Hepatic Disorders; Jaundice; Dysmenorrhea; Leukorrhea; Colds; Flu; Infections; Headaches; Hypotension; Nervous Exhaustion; Stress Related Conditions. Key Qualities: Stimulant (nervous and mental); Analgesic; Tonic; Strengthening; Restorative; Purifying; Protective; Reviving; Refreshing.



Medicinal Uses

Cancer Prevention Properties
Several studies done in the last several years show that oil from the leaves of the very plant sold as a spice for flavoring can help prevent the development of cancerous tumors in laboratory animals. One study, led by Chi-Tang Ho, Ph.D., professor in the Department of Food Science at Rutgers University in New Brunswick, New Jersey, showed that applying rosemary oil to the skin of experimental animals reduced their risk of cancer to half that found in animals that did not receive the application of oil. In other studies by the same research team, animals whose diets contained some rosemary oil had about half the incidence of colon cancer or lung cancer compared with animals not eating rosemary. And researchers at the University of Illinois in Urbana found that rosemary cut by half the incidence of breast cancer in animals at high risk for developing the disease. Future studies will demonstrate whether these properties extend to humans as well.

Though these experiments have used rosemary oil to test the effectiveness in preventing cancer, the oil should not be taken internally. Even small doses can cause stomach, kidney and intestinal problems, and large amounts may be poisonous. Use a tea instead. Pregnant women should not use the herb medicinally, although it's okay to use it as a seasoning.

Other Medicinal Properties
Rosemary helps to relax muscles, including the smooth muscles of the digestive tract and uterus. Because of this property it can be used to soothe digestive upsets and relieve menstrual cramps. When used in large amounts it can have the opposite effect, causing irritation of the intestines and cramps. A tea made form the leaves is also taken as a tonic for calming nerves and used as an antiseptic.


Rosemary Tea for colds, flu, rheumatic pains, indigestion, fatigue, headaches.
1 tsp. Rosemary herb
1 cup Steam Distilled water
Steep for 15 minutes.
Sprains
Using the Rosemary Tea recipe, soak a piece of flannel cloth in the tea. Put the cloth on the sprain. Use a hot water bottle and alternate with an ice pack, over the fomentation.


Cosmetic Uses

Use an infusion as a rinse to lighten blond hair, and to condition and tone all hair. Try mixing an infusion half and half with shampoo to strengthen hair.

An infusion can also be used as an invigorating toner and astringent. Rosemary added to a bath strengthens and refreshes, especially when used following an illness.




Rosemary Lip Balm
good for chapped or cracked lips

4 TBSP olive oil
1 TBSP beeswax
2 TBSP rosemary leaves
2 TBSP rosewater

Place the oil and beeswax into the top of a double boiler or in a bowl set in a saucepan of water. Melt them gently together on a low heat. Stir in the rosemary and rosewater. Keep at just below simmering point for 30 min. Strain into a sterilized jar. Cover when completely cool. Use within 3 months.

Taken from the book Natural Beauty by Gail Duff
Rosemary Mouthwash
Adapted from Natural Beauty by Gail Duff

2 tsp dried Rosemary or 4 rosemary sprigs (fresh)
4 cloves
2 cups mineral water

Place the rosemary and cloves in a saucepan with the water. Bring to a boil and simmer for 15 min. Cool and strain. Store in a sterilized bottle.

To Use: Dilute it one-to-one with water.



LAVENDER & ROSEMARY BATH
INGREDIENTS:
1/8 cup lavender
1/8 cup rosemary


Bring a pot of water to boiling and remove from heat. Steep rosemary and lavender in the water for approximately 20 minutes. Strain the herbs and add the scented water to your bath.


Culinary Uses

Rosemary and lamb go well together. Make slits in lamb for roasting and tuck in sprigs of the herb. Place larger sprigs over chops for grilling and use chopped leaves sparingly in soups and stews. Use rosemary in bouques garnis and sparingly with fish and in rice dishes.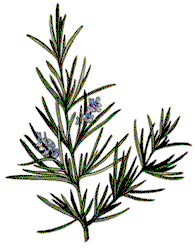 Rosemary Herb Bread

Ingredients
2/3 cup milk
2 eggs
3 cups bread flour
1 1/2 teaspoons salt
2 1/2 tablespoons white sugar
1 teaspoon chopped fresh rosemary
1 teaspoon chopped fresh thyme
1 teaspoon dried marjoram
1 1/2 tablespoons margarine
2 teaspoons active dry yeast


Directions
1 Place ingredients in the bread machine in the order suggested by the manufacture. Select Basic or White Bread setting. Start.


Rosemary Grilled Chicken
2 broiler chickens (3 lbs ea. split) -- backbones removed
1/4 cup vegetable oil
8 tablespoons butter - melted
1/2 cup dry white wine or 1/3 cup lemon juice
2 teaspoons dried rosemary -- crushed
1/2 clove garlic -- optional
1 teaspoon salt
freshly ground black pepper - to taste

Prepare the grill by placing an oiled rack 4-6 inches over medium-hot coals. Combine the oil, butter, wine or lemon juice, rosemary garlic (if desired) and salt. Brush the chicken halves inside and out with 1/4 cup of the seasoned butter Place the chickens bone side down on the grill. Baste them frequently with the remaining seasoned butter and turn the pieces every 10 minutes for a total of 30 to 40 minutes in all. Sprinkle well with pepper.

SERVES 4 !! Great for a get-together during the lazy, hazy days of summer!


Pear, Thyme, and Rosemary Sorbet
4 sprigs fresh thyme
4 sprigs fresh rosemary
1-1/2 cups water
1-3/4 cups Comice pear juice and pulp, about 3 pears
1/4 cup lemon juice
1/3 cup sugar

Boil the thyme and rosemary with the water until the tea is reduced to 1/2 cup. Strain and cool. Peel and core 2 or 3 ripe Comice pears and process them with the lemon juice in a food processor fitted with a metal blade. Beat in the sugar and the cooled herb liquid, and freeze in an ice-cream freezer.

Yield: 1 quart


Herbfarm Rosemary Shortbread
1-1/2 cups (3 sticks) unsalted butter, at room temperature
2/3 cup sugar
2 tablespoons fresh rosemary, or 2 teaspoons dried
2-1/4 cups unbleached all-purpose flour
1/2 cup white or brown rice flour (available at natural foods stores)
1/4 teaspoon salt
2 teaspoons sugar for topping (optional)

Preheat the oven to 375 degrees F. Line two baking sheets with parchment paper. Cream the butter in a large bowl until pale yellow and light. Add the sugar, and continue mixing until the mixture is fluffy. If you are using fresh rosemary, mince it. If you are using dried rosemary, crush it in a mortar and pestle, or by using a rolling pin on a flat surface, until it is fine but not a powder.

Add both flours, the salt, and the rosemary to the butter mixture, and mix until thoroughly combined. The dough will be somewhat soft. Refrigerate it for 1 hour, if necessary, so that it is firm enough to roll.

Roll the dough out to form a rectangle about 10 x 14 inches, and 1/4 inch thick. Cut the cookies into 1-1/2 x 2-inch rectangles or any other shape you like. Place them about 1/2 inch apart on the prepared baking sheets. Sprinkle them with the sugar topping if desired, and bake in the center of the oven until they are gold at the edges, 12 to 15 minutes.

Remove the cookies from the oven, and transfer them to wire racks to cool. Pack in an airtight container. The cookies will keep, their flavor improving, for at least a week.

Yield: About 3 dozen cookies


Rosemary Sour Cream Biscuits with Peach Butter

8 Servings

BISCUITS:
2 cups all-purpose flour
2 tablespoons sugar
1 tablespoon baking powder
1/4 teaspoon baking soda
1/4 teaspoon salt
1/3 cup Land O Lakes butter, or margarine, cut into pieces
1 8 oz. container (1 cup) Land O'Lakes light sour cream
1 teaspoon *chopped fresh rosemary
2 teaspoons milk
1 tablespoon milk, or cream

PEACH BUTTER:
1/2 cup Land O Lakes butter, or margarine, softened
3 tablespoons peach preserves

1. Preheat oven to 425 degrees F.
2. In medium bowl combine flour, sugar, baking powder, baking soda and salt.
3. Cut in 1/3 cup butter until mixture resembles fine crumbs. Stir in Light Sour Cream, rosemary and 2 teaspoons milk just until blended.
4. Turn dough onto lightly floured surface; knead 15 to 30 seconds. Roll dough to 1/2-inch thickness. Cut with 2 1/2-inch round biscuit cutter.
5. Place 1 inch apart on cookie sheet. Brush with 1 tablespoon milk.
6. Bake for 9 to 13 minutes or until golden brown.
7. Meanwhile, in small bowl stir together 1/2 cup butter and peach preserves. Serve warm biscuits with Peach Butter. Makes 2/3 cup Peach Butter.

* 1/2 teaspoon dried rosemary can be substituted for 1 teaspoon chopped fresh rosemary.

TIP: For plain Sour Cream Biscuits, omit rosemary.






Rosemary Potatoes
8 small red potatoes, scrubbed & quartered

8 cloves garlic, peeled

45 ml (3 tbsp) olive oil

4 ml (1/2 tsp) freshly ground pepper

80 ml (1/3 cup) minced fresh rosemary or 30 ml (2 tbsp) dried

125 ml (1/2 cup) chopped green onions

Preheat oven to 200C (400F). Place potatoes and garlic in a single layer in a baking dish. Drizzle with olive oil and toss potatoes to coat evenly. Sprinkle with salt, pepper and rosemary and toss again. Roast for 30 minutes or until potatoes are crisp on the outside and tender inside. Sprinkle with green onion and serve. Serves 8

Rosemary Herb Butter
2 to 3 cloves garlic, minced
1 tablespoon fresh rosemary leaves, removed from the stem
1/2 teaspoon orange or lemon zest
1 tablespoon orange or lemon juice
1/4 teaspoon crushed red chile pepper
1 stick butter, softened


Combine all of the ingredients. Make a log by spreading the mixture across a length of waxed paper. Roll the log back and forth to make a smooth tube about 1 1/2 inches thick. Twist the ends and store in the refrigerator or wrap airtight and store in the freezer.


Rosemary Walnuts

2 cups shelled whole walnuts
2-1/2 tablespoons butter, melted
2 teaspoons crumbled dried rosemary
1-1/2 teaspoons salt
1/2 teaspoon cayenne pepper

Preheat oven to 350 degrees F. Place walnuts in a single layer in a shallow pan. Mix together remaining ingredients and pour over walnuts. Roast in oven about 10 minutes, until browned, shaking occasionally.

Yield: 6 servings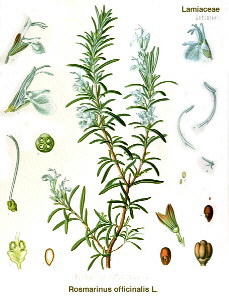 Magical Uses: "Any home where rosemary thrives is a home where the mistress rules." Rosemary when burned, emits powerful cleansing and purifying vibrations, and so is smoldered to rid a place of negativity, especially prior to performing magic. It is one of the oldest incenses. Burn for protection, exorcism, purification, healing, to cause sleep, To restore or maintain youth; to bring love and to increase intellectual powers. Rosemary infusion is used to wash the hands before healing work, and the leaves mixed with juniper berries are burned in sickrooms to promote healing. Rosemary may be substituted for any other herb, in any spell or mixture. It is generally used as a substitute for Frankincense. Rosemary leaves under your pillow do away with evil spirits and bad dreams. It is hung on porches and doors to keep thieves out. Rosemary is grown to attract elves. Wear rosemary to aid your memory (especially helpful when you are studying for an exam). Add an infusion of rosemary to your bathwater to perserve youthfulness and to purify you. Carry a bit of rosemary with you to remain healthy.


Study Incense

Burn while studying to increase mental powersand concentration efforts, and
also to improve the memory
Equal parts:
cinnamon rosemary mace

Other Uses

Use the dried leaves as potpourri and in sachets to scent clothes and linen and deter moths.

Rosemary Remembrance Wreaths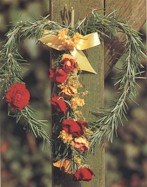 Form heavy gage wire into the shape of a heart by twisting it into a circle about 8 inches in diameter, then pinching at the base and the top to form a heart. Bind slender sprays of rosemary to the heart-shaped frame with florists' wire. Decorate the rosemary heart with dried flowers and herbs, as shown. Rosebuds, also a symbol or remembrance, add a nice touch.